Die Casting
Product Introduction
Die Casting Service
Die casting is the process of injecting molten metal into steel molds that is an economical and efficient method for mass-producing non-ferrous uniform metal products. Its versatility, consistency, and cost-efficiency have made it one of the more popular methods when complex-shaped manufacturing part is demanded in high volume. Die casting's major advantage is in its cost savings, it has the ability to minimize assembly operation and cast multiple parts into a single part, with added benefits such as easy modification to the die, fast production cycle time, reduction in material scrap, etc.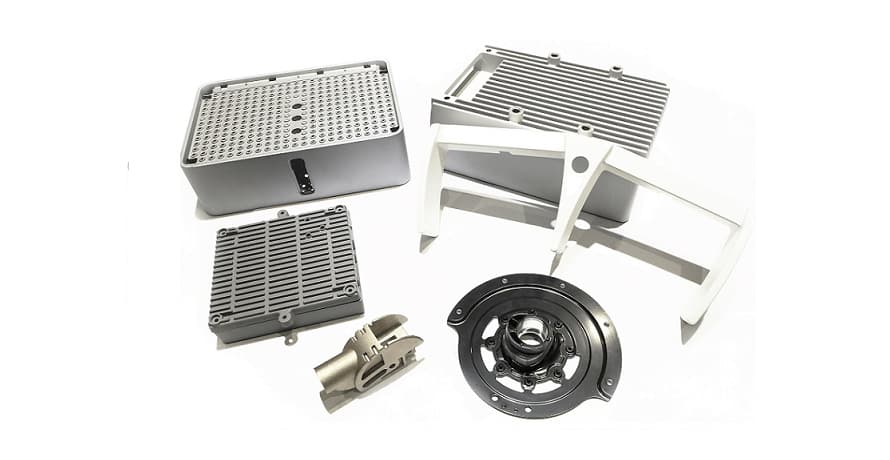 Aluminum Die Casting Process
Aluminum is one of the more popular choices of metal when it comes to dying casting. Aluminum is processed with cold chamber die casting, where the aluminum is melted separately in a furnace, then transported molten metal into an injection cylinder. Afterward, the aluminum is shot into the die via a piston to hold its desired shape and after it is solidified, ejector pins push out the product and scraps will be recycled after this process. Issues with aluminum die casting often come with a high-pressure injection that will cause air entrapment, this happens when the injection process is faster than air escaping.
Except for aluminum also zinc, magnesium, and copper are widely used for die casting. Here at Pyramids Technology, we specialize in aluminum die casting as it is cost-effective. Aluminum takes a slight amount of energy to melt and its excellent strength to weight ratio ensures the durability of the parts while being lightweight.
The Best Aluminum Die Casting Supplier
Pyramids provide various die casting services to comprehensively cover almost all parts manufacturing needs and we can provide excellent dimension accuracy and smooth cast surface is strict to satisfy clients' high standards. We are able to cast walls down to 3mm compared to sand and permanent casting. Additionally, we provide an economical choice for high-speed, large-scale production with a full automation process.
Our Aluminum Alloy Die Casting Processing Capabilities
Economical high speed for large-scale production by complete automation.
Thinner walls could be easily achieved to obtain complex castings.
Superior surface finish can be obtained compared to other casting processes without any further secondary process involved.
Multiple part shapes with consistent and tight tolerance repeatability from part to part.
Precise slides structure and inside mechanism help achieve not only challenging undercut but also complex features.
Closer dimensional tolerances & better mechanical properties can be obtained compared to sand casting.
If you have any questions about our aluminum die casting services, please feel free to contact us.